I would like to be able to say that it is a personal experience with MINI Customer Services, however that would mean that I have achieved a (seemingly impossible) dream of owning a MINI!
This story comes from Eagleswings on the MINI2 forum:
MINI Bursts Into Flames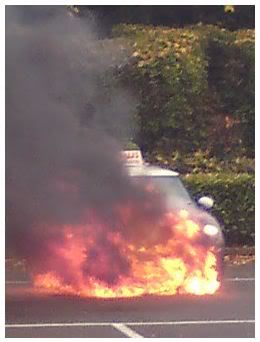 MINI Bursts Into Flames

I am a driving instructor and bought a new Cooper D in September 2008, the car had successfully completed 25K+ and has been serviced under a TLC package. Yesterday afternoon whist being driven at 50 down a dual carriageway the warning light 'Diesel particle filter malfunctioning' came on. Just a yellow light usually indicating that a problem has occurred that will need dealt with soon. The manual says – 'Continue your journey… use next opportunity to drive faster than 38mph for 5 mins.. ' the light went out after travelling about half a mile, but then we had to stop at traffic lights, at which point I noticed smoke coming from the back – I believed it was coming from the exhaust. I manoeuvred the car into a car park just off from the traffic lights and when we pulled up a passer-by point to flames coming from underneath the offside front of the car, within seconds the car was well alight and was destroyed within minutes.

I know there were problems with the power steering on the earlier Mini but thought that was sorted. I am particularly concerned that there could be a fault with this type of car which could result in a far worst outcome than mine. I dread to think what could have happened if we were not required to stop at the lights. Fortunately no-one was harmed.

Not sure if I will be buying another mini!
Wow! That sounds like a really lucky escape for the instructor and the pupil he was teaching at the time.
The next day he posted an update to the thread:
Quick update for everyone following this – and thanks again for all the thoughtful comments. Thankfully no long term damage to my pupil I think she will cope fine, now she realises it was nothing to do with her.

At first my insurance company weren't interested, they reckoned it was a Mini problem. Mini though did not want to touch the car until it was assessed by the insurance, so I was left phoning between the two all morning.

Have to say that Mini Customer Service have been great so far, they appreciate my problem with work, being a driving instructor and two people due to take their test on Thursday, so they have arranged for me to get a courtesy car with dual controls on Wednesday. Given that I was looking at having to fork out over £1000 a month for a contract hire car, I am delighted. (My insurance apparently does not cover the cost of a replacement car as it was not involved in an accident!)

Given Mini's response so far I will no doubt stick with this type of car. I have been delighted with it till now and most of the pupils love it. Jonny6 above is right that this does not seem to be a common problem and could probably happen to any car. I reckon that in situations like this the quality of the product is determined by the quality of the customer service and to date Mini have never let me down.
You hear so many horror stories from suppliers, both Classic and New Mini, so, big up to MINI Customer Services! It's great to hear about good service from a supplier, especially one associated with our favourite cars.
I really hope that MINI UK keep up this level of service and that Eagleswings gets a new MINI soon.